Ban Electroshock (ECT) Device Being Used on Children, the Elderly and Vulnerable Patients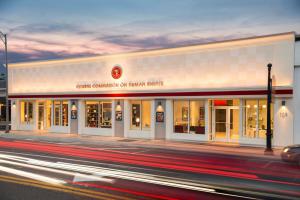 The headquarters for CCHR Florida are located in downtown Clearwater
Mental Health Watchdog calls upon the FDA to ban the ECT device from use after finding electroshock causes brain damage, memory loss and death.
ECT is brutality in the name of mental health care. The high death rate, severe memory loss, brain atrophy and damage ECT causes warrant it being banned under existing FDA law."
— Diane Stein, President of CCHR Florida
CLEARWATER, FLORIDA, UNITED STATES, August 3, 2018 /EINPresswire.com/ — The mental health watchdog Citizens Commission on Human Rights (CCHR) of Florida announced its support of the nationwide movement to ban the use of electroshock treatment—the practice of sending up to 460 volts of electricity to the brain to "treat mental disorder"—stating that such a ban should be imminent in light of increasing reports of patients being damaged and deaths. Florida saw a 60% increase between 2015 and 2016 in the number of Medicaid recipients who were electroshocked while Texas, the only state to record deaths within 14 days of electroshock being administered, reported a death rate in recent years that represents an estimated 300 deaths nationally each year. The most frequent causes of death have been cardiac events and suicide, according to one study.
Jan Eastgate, president of CCHR International, said: "Electroshock is mental euthanasia, with a long history of being used for torture and abuse. Electric shock eradicates memory. It should never be condoned or permitted because quite apart from its inhuman aspects, patients consider it bluntly criminal, especially when forced on them. Psychiatrists and the FDA pass off electric shock machines as wonderful, even though they can kill patients."
Electroshock's brutal and sordid history ranges from its use in the slaughter of pigs, to painful "aversion therapy" on homosexuals, inflicting brain damage on those receiving ECT and torture.
The Food and Drug Administration (FDA) has never obtained a single clinical trial from the manufacturers of the electroshock devices proving their safety and efficacy. Under Section 516 of the Food, Drug and Cosmetics Act the FDA has a duty to ban devices that present "substantial deception or unreasonable and substantial risk of illness or injury." Electroshock, also called electroconvulsive therapy or ECT, can cause brain damage, long term memory loss and death, constituting more than a "substantial risk" and is far from safe and effective, according to thousands of survivors' complaints. Ignoring these dangers, the FDA has instead limited bans under this Section to prohibiting the use of powdered gloves in medical or surgical procedures and prosthetic hair fiber implants that may trigger inflammation and hypersensitivity reactions, the latter FDA says were misrepresented in marketing as "safe, effective and causing little or no discomfort."
"Despite evidence clearly demonstrating that there are substantial risks associated with the use of ECT, the FDA and APA continue to ignore the perils," stated Diane Stein, President CCHR Florida. "One person being electroshocked is one too many and we are urging everyone to sign the petition to ban ECT"
The petition to ban ECT being used on children, the elderly and vulnerable patients has gained widespread support and stresses that in light of the fact that the FDA admits ECT can cause cardiovascular complications, memory loss, cognitive impairment, brain damage and death and that psychiatrists admit they do not know how ECT "works," that the FDA should ban the electroshock (ECT) device from use.
Examples of brain damage and memory loss are all too abundant:
• In March 2016, a coroner from Sunderland County in the UK determined Elsie Tindle died after electroshock triggered an epileptic fit which caused irreparable brain damage.
• A 2012 study published in Proceedings of the National Academy of Sciences reported a considerable "decrease in functional connectivity" between the prefrontal lobes of the brain and other parts of the brain after ECT. The most extensive long-term follow-up study indicates that "most ECT patients will never recover from the damage in the form of persistent severe mental deficits."
• Austin, Texas, psychologist John Breeding, who heads the Coalition for the Abolition of Electroshock, said, "The bottom line is that ECT 'works' to the extent that it damages and disables the brain." Breeding dispels psychiatric theories that the procedure is safer today than its "One Flew over the Cuckoo's Nest" days in the 60s. He says that ECT has more potential for harm than ever. Much higher voltages are employed in the modern procedure because muscle relaxants and anesthetics raise the seizure threshold, with more electricity required to produce a seizure. The greater heat and electricity themselves cause more brain cell death, he says. He concludes "Given what we know about the resulting brain damage, I think this is a form of assault…."
• Leading ECT researcher and advocate, psychologist Harold Sackeim admitted in an editorial in The Journal of ECT that "virtually all patients experience some degree of persistent and, likely, permanent retrograde amnesia." In a January 2007 study published in Neuropsychopharmacology, Sackeim and colleagues acknowledged that ECT may cause permanent amnesia and permanent deficits in cognitive abilities, which affect ability to function.
• In 2005, Santa Barbara Superior Court Judge Denise de Bellefeuille ruled that a psychiatrist and Santa Barbara psychiatric facility deceived its patients by failing to tell them that ECT causes irreversible memory loss. The psychiatrist (who had performed shock treatment for over 20 years), admitted that neither he nor anyone else understands how shock treatment works, and that the consent form Johnson provided to patients was "decidedly misleading in a critical regard," concerning the permanency of memory loss.
Stein says, "To treat mental problems by electric shocks is brutality in the name of mental health care. The high death rate, severe memory loss, brain atrophy and damage ECT causes warrant it being banned under existing FDA law."
To sign the petition to ban ECT please visit Ban Electroshock (ECT) Device Being Used on Children, the Elderly and Vulnerable Patients
About CCHR: Initially established by the Church of Scientology and renowned psychiatrist Dr. Thomas Szasz in 1969, CCHR's mission is to eradicate abuses committed under the guise of mental health and enact patient and consumer protections. L. Ron Hubbard, founder of Scientology, first brought psychiatric imprisonment to wide public notice: "Thousands and thousands are seized without process of law, every week, over the 'free world' tortured, castrated, killed. All in the name of 'mental health,'" he wrote in March 1969.
For source references click here.
Diane Stein
Citizens Commission on Human Rights of Florida
(727) 422-8820
email us here
Electroshock — Its Torture

Source: EIN Presswire