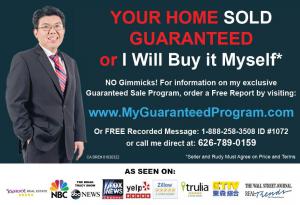 Rudy L. Kusuma Home Selling Team Ranked #1 The Most Reviews and Endorsements from Local Home Owners in zillow – Southern California Real Estate Market
BECOME A VIP BUYER AND BEAT ALL OTHER BUYERS TO THE NEW HOT LISTINGS
LOS ANGELES, CALIFORNIA, USA, February 3, 2018 /EINPresswire.com/ — Great news has arrived for all the Southern California based aspiring homeowners and buyers as they can now beat out all the other buyers to Hot New Listings. Team NuVision led by California's leading award-winning real estate maestro, Rudy L. Kusuma has proudly announced the introduction of an amazing buyer profile system that has revolutionized buying property like never before.
"With this buyer profile system, you can receive Priority Access to all the new listings that match your home buying criteria and working of this system is pretty simple." Said Rudy L. Kusuma of Team NuVision, while introducing the patented Buyer Profile System. "Our exclusive Buyer Profile System not only saves you a lot of time but also a great deal of money." He added. According to Rudy Kusuma, buyers can simply tell Team NuVision what they are looking for and they will get priority access to all homes that match their buying criteria.
In addition, the homes and properties shown to the buyer with this system will also include Bank Foreclosures, Company Owned Properties, and other Distress Sales. Moreover, another amazing advantage of this program is that it will help them get rid of the outdated information in newspapers and online listings. Priority access means that they are the first before all other buyers and therefore, they can negotiate the lowest possible price and their time is not wasted viewing homes that are not interesting to them. These buyers can get started by filling out a form and submitting it to the website of Team NuVision.
For more information, please visit:
www.TeamNuVision.net OR www.teamnuvision.net/vip_buyer
To read the reviews of Rudy L. Kusuma, please visit his Zillow page: www.zillow.com/profile/rudylk/
RUDY LIRA KUSUMA REAL ESTATE BROKER LICENSE 01820322
Rudy L. Kusuma
RUDY LIRA KUSUMA HOME SELLING TEAM
626-789-0159
email us here

Source: EIN Presswire